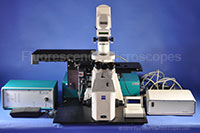 SOLD
MODEL: Zeiss AxioVert 200 PALM
ITEM CODE: AxioVert 200 PALM
Shipping Cost: To be determined
Description
Microscope model Axiovert 200. Non-motorized frame.
General Specifications:
Sold without any objectives. We removed them to sell separately. We have many LWD /Phase objectives for use with this type of system.
Nosepiece made to accept DIC sliders. No DIC sliders included.
10x/23mm eyepiece pair.
LCD Light Manager on tilt back carrier. Many units don't come with this LCD screen.
C-Mount to attach camera to left side camera port.
Full turret style condenser. Not the other cheap simple type.
Condenser with Ph1, Ph2, Ph3, BF, and empty slots where you could add DIC. Does not have DIC.
Light splitter at rear. This allows selection of either 100W HBO Mercury illumintor or the Laser from below.
Motorized stage. This can be removed and a manual stage inserted. The motorized stage was not tested. Stage needs a controller. Brand is Renishaw. Model RCH24, Y30D00A. Made in UK.
Fluorescence Specifications:
Does not come with any fluorescence dichroic cubes.
Does come with the reflector turret, just doesn't have cubes installed. We removed them to sell separately. We can provide any cubes with filter sets that you may need. We are a dealer of Chroma filters.
HBO 100 Watt Mercury Illuminator. Model 1007-980. Does not include mercury bulb.
HAL 100 Watt Halogen Illuminator.
FluoArc Power Supply for HBO 100W Mercury system.
FluoArc keypad controller pendant with screen.
LUDL filter wheel in back. May have filters but didn't check. This will need some computer controller, which we don't have. You can also simply remove it and not use it. The HBO lamp housing will then fit to the back of the frame.
LUDEL Electronic Products Ltd, Hawthorne NY. LEP P/N: 99A042. Description: FW 6 POS W/SH.
PALM System:
P.A.L.M. Microlaser Technologies
MicroBeam Laser Assisted Cell Microdissection
Manufactured October 2002.
P.A.L.M.
Microlaser Technologies AG; Am Neuland 9+12; D-82347 Bernried
CE certification.
If you don't want the PALM micro system, it can easily be removed and then you have a normal Axiovert 200 unit. You might need a manual stage.
The PALM system may need other parts and accessories (maybe a computer) to operate. Only what is shown in the photos is included. Therefore, we have to offer it under the class of "for parts". If you want us to verify certain features are functional, then just contact us and we will do that.
We don't know how to operate the PALM system, so we're selling the complete unit (minus objectives, filter cubes) on an as-is basis. It is being sold just like we bought it, as-is. However, if you need a fully functional unit, with objectives, customized filter cubes, manual stage, removed PALM, or other needs, we can assist. But that is not included in this auction. We can revise the auction for exactly what you need.
General Notes:
One problem we noted. The head is loose. The fitting around the head was bent and it messed up some inside of the head. You might need another head. We can provide but at a separate cost.
We refurbish Zeiss equipment and have extensive background in servicing and obtaining parts.
Used microscope Sold As-Is.
No Returns or Refunds.