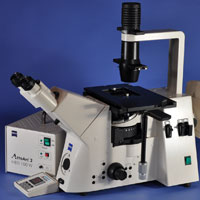 SOLD – BUT HAVE SIMILAR UNITS. PLEASE EMAIL US
MODEL: AxioVert 200M
ITEM CODE: 641
Shipping Cost: To be determined
Description Overview:
Motorization for easy control of many functions.
100W HBO Illuminator.
Side Camera Port.
Photography System:
Left side port for attaching cameras.
Comes with a 1x c-mount adapter for the left side port.
The photos show a Zeiss camera but this is only present to demonstrate the capability and how to connect a camera. It is not included.
This frame comes with the front photography port. This was a factory option and is not on many models. No camera mount has been included for the front port but it is capable of being added.
There are NO cameras included.
Pair of W-Pl 10x/23 high eyepoint eyepieces.
Motorization:
The following are motorized: focusing, objective nosepiece turret, reflector cube turret, fluorescence shutter, switch between upper and lower light.
Objectives:
AchroPlan 4x/0.10. Infinity/-. Part number 440020. (not phase).
CP-Achromat 10x/0.25. Infinity/-. Ph1. Part number 440931.
LD AchroPlan 20x/0.40. Korr. Infinity/0-1.5. Ph2. Part number 440845. Phase
Contrast. Correction Collar.
LD AchroPlan 40x/0.60. Korr. Infinity/0-2. Ph2. Part number 440865. Phase Contrast. Correction Collar.
6-Place Nosepiece. ?
Condenser:
0.40 Numerical Aperature.
Condenser settings for H (brightfield), Ph1, and Ph2. Includes iris diaphragm.
Phase Contrast Slider with two phase settings: Ph1 – 0,4; Ph2 – 0.4.
General Specifications:
Made in Germany.
Mechanical Stage.
Fluorescent Light Details:
Filter Cubes:
DAPI. Zeiss Set 01. Band Pass Excitation 365/12. Zeiss Part#488001. (New).
FITC. Zeiss Set 10. Band Pass Excitation 450-490. Zeiss Part#488010. (New).
TRITC. Zeiss Set 15. Band Pass Excitation 546/12. Zeiss Part#488015. (Used
Condition with some signs of usage).
6-place turret reflector.
HBO 100 Lamp Housing: Part 1007-980.
Power Supply: AttoArc-2, 100W HBO.
Keypad controller with variable Intensity.
Transmitted Illumination:
6V-30W Halogen Illuminator.
Computer Connectivity:
The unit can be ran from a computer using Zeiss Axiovision software. The computer, control cables and software are not included.
General Notes:
Microscope is in good condition. We guarantee all functions work fine.
Warranty:
We will warrant this Microscope free from defects due to normal usage for a period of three months.
User Manual and Instructions:
click this link: Zeiss Axiovert 200 Brochure.pdf
click this link: Zeiss Axiovert 200 and 200M Operating Manual.pdf
---
TERMS AND CONDITIONS:
Payment Method:We generally accept purchase orders from government, educational, and industrial facilities. For some orders, we accept credit cards. We also accept bank wire (telegraphic transfers) transfers. Contact us for details.
Shipping Costs:
Shipping costs vary. Please contact us and we will review your location and the cost to ship.
Money Back Guarantee:
We guarantee you will be satisfied with your purchase. If in the unlikely event you are not satisfied and want to return your item, please contact us within 10 days of receiving it. We will then arrange to get you an RMA number and details about how to return it. Shipping costs are non-refundable. We have no restocking fees. We will refund the full price of the equipment.
Warranty:
We warranty all our reconditioned products to be in good working order. We will repair or replace equipment at no charge, during our 90 day warranty period. We have a one year warranty period for labor.
Beware of counterfeit fake parts:
Be sure of who you are buying from as a lot of "used dealers" are selling counterfeit parts, passing them off as originals. Click this link.
All Original Parts – Not Counterfeit
Warning:
UV light and Mercury Bulbs are Dangerous! YOU MUST Read BEFORE purchasing!
Click this link.