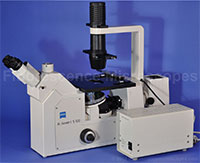 SOLD – BUT HAVE SIMILAR UNITS. PLEASE EMAIL US
MODEL: Carl Zeiss
ITEM CODE: 607
Shipping Cost: To be determined
Objectives:
10X: CP-Achromat 10x/0.25, Infinity/-, Ph1 Var1. (Phase contrast objective)
20X: L.D. AchroStigmat 20x/0.30, Infinity/0-2, Ph1 Var1. (phase contrast, long working distance)
32X: L.D. AchroStigmat 32x/0.40, Infinity/0.5-1.5, Ph1. Part# 44 01 49. (Phase contrast, long working distance)
40X: LD AchroPlan 40x/0.60 Korr, Infinity/0-2. Zeiss Part#44 08 64. Correction Collar 0-2mm. (long working distance)
Sextuple Objective Nosepiece (6-place). Empty space for two more objectives.
Fluorescent System:
50W HBO Zeiss Arc Lamp Power Supply.
Lamp Housing, rear mounted, for 50W HBO bulb. Part#447216.
Includes Mercury Arc 50W bulb.
Filter Cube Slider Model 3FL #451366 – Three positions available.
Position I: Blank for brightfield/phase.
Dichroic Filter Cube – Position II: Excitation HQ405/20 X 19589. Emissions HQ435 LP M !7344.
Dichroic Filter Cube – Position III: Excitation HQ480/20 X 36663. Emissions HQ510/20 M 36699.
Other filters can be installed as needed. We are a dealer for Omega filters.
Phase Contrast System:
Phase Slider with these three settings: Ph1-0.4 / Var1-0.4 / Filter (for brightfield).
The brightfield filter looks like a polarizing lens. Any filter could be inserted here.
General Features:
Inverted objectives – useful for observation of tissue culture specimen through the bottom of a glass or plastic petri dish.
Trinocular head capable of attaching USB Digital cameras, CCD video cameras, etc, with the correct matching camera adapters (adapters not included).
Viewing Eyepiece Pair: E-Pl 10x/20 with high eyepoint (acceptable for eyeglasses). Both with diopter adjustments.
XY stage slider movement with low position controller on left side.
Transmitted Illumination:
Bulb type: 12V-100W.
Filter slider above phase slider. Has two empty filter openings.
Iris diaphragm.
Light Condenser with 0.4 numerical aperature. Model #451235.
115V/230V. Selectable Voltage.
Condition:
This is a reconditioned microscope and is in good working condition.
User Manual and Instructions:
Click this link: Zeiss Axiovert 100 and 135 and 135M Microscope Manual
Click this link: LEP Mercury 50W Lamp Power Supply Manual
---
TERMS AND CONDITIONS:
Payment Method:We generally accept purchase orders from government, educational, and industrial facilities. For some orders, we accept credit cards. We also accept bank wire (telegraphic transfers) transfers. Contact us for details.
Shipping Costs:
Shipping costs vary. Please contact us and we will review your location and the cost to ship.
Money Back Guarantee:
We guarantee you will be satisfied with your purchase. If in the unlikely event you are not satisfied and want to return your item, please contact us within 10 days of receiving it. We will then arrange to get you an RMA number and details about how to return it. Shipping costs are non-refundable. We have no restocking fees. We will refund the full price of the equipment.
Warranty:
We warranty all our reconditioned products to be in good working order. We will repair or replace equipment at no charge, during our 90 day warranty period. We have a one year warranty period for labor.
Warning:
UV light and Mercury Bulbs are Dangerous! YOU MUST Read BEFORE purchasing!
Click this link.