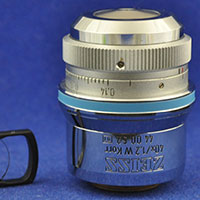 ITEM CODE: L439
Shipping Cost: Free Shipping
Description:
Zeiss C-Apochromat 40x / 1.2 W Korr, Infinity 0.14-0.18 Microscope Objective with DIC slider.
Correction Collar 0.14 – 0.18mm adjustment for cover slip thickness.
Water Immersion.
Objective Part Number.440052.
DIC Slider Part Number: 444460.
Working Distance 0.29.
Price new from Zeiss (Year 2012 pricelist): USD 7656 (objective only, not price of slider).
Condition: Excellent shape. No internal problems. Collar turns well.
Spring good.