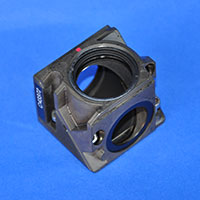 Description:
Zeiss Dichroic Filter Cube Blank.
No filters.
Screw-in type.
This is the screw-in type of cube that was used before the P&C types came out.
It fits some Axio series, but not the P&C types.
For example, it fits some of the Axioskop-2 Microscopes.
Includes the required filter retaining rings.
This is over $425+ from Zeiss.
Condition: Like New.