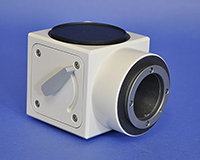 ITEM CODE: A432
Shipping Cost: Free Shipping
Description:
Zeiss Dual Light Splitter Adapter for Microscope.
This fits the Zeiss Axio product line such as Axioplan, Axioplan-2, Axioskop,
Axioskop-2, Axiovert 200, etc.
This is used for adding two different light sources and being able to switch between the two.
Zeiss Part Number: 447230.
Condition: In good condition.