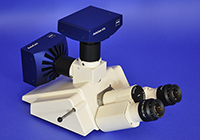 Description:
Zeiss microscope head.

Fits Zeiss AxioPlan-2, AxioPlan-2ie imaging microscopes.

Dual camera ports.

Has switching mirror in the top to switch between the two camera ports.

Excellent head for attaching both a monochrome and a color camera simultaneously.

Pull lever on head diverts light 100 percent to eyepieces, 100 percent to top camera ports, or split.

Zeiss Part #452145.

Does not include any eyepieces.

Eyepieces are only shown for completeness, but they will not be included.

Does not include cameras.
Condition: Used in good condition.