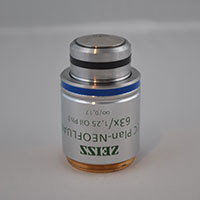 ITEM CODE: L308
Shipping Cost: To be determined
Description:
Zeiss EC Plan-NEOFLUAR
63x
1.25 N.A. Numerical Aperture
Infinity
0.17 Cover Slip Thickness
Oil Immersion
Part Number 420481-9910
Thread size: M27
D = 0.09.
Phase Contrast. Ph3.
Zeiss Price USD $5885.
Condition: Excellent. Appears new.
My note: this may be new.
Includes plastic canister (not shown).