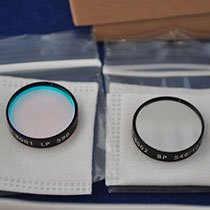 SOLD
ITEM CODE: C184
Shipping Cost: To be determined
Description:
Zeiss Filter Set 15 TRITC Long Pass Fluorescence Filter set for Cube in Microscope.
The size of these filters and dichroic mirror will fit both Zeiss and Olympus microscope cubes.
Excitation: 546/12nm
Beam Splitter: FT 580nm.
Emission: 590nm. Long Pass.
See the details on the Zeiss Spectral chart.
Price new from Zeiss website: $522.
Zeiss Item Number for the filter set: 488015.
Includes only filter set. Does not include blank cube. We can provide that separately if needed.
Condition: New in factory packaging.