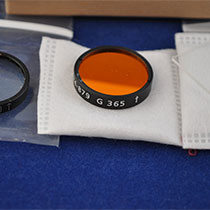 SOLD
ITEM CODE: C185
Shipping Cost: To be determined
Description:
Zeiss Filter Set 2 DAPI Long Pass Fluorescence Filter set for Cube in Microscope.
The size of these filters and dichroic mirror will fit both Zeiss and Olympus microscope cubes.
Excitation: 365nm
Beam Splitter: FT 395nm.
Emission: 420nm. Long Pass.
See the details on the Zeiss Spectral chart.
Price new from Zeiss website: $409.
Zeiss Item Number for the filter set: 488002.
Includes only filter set. Does not include blank cube. We can provide that separately if needed.
Condition: New in factory packaging.