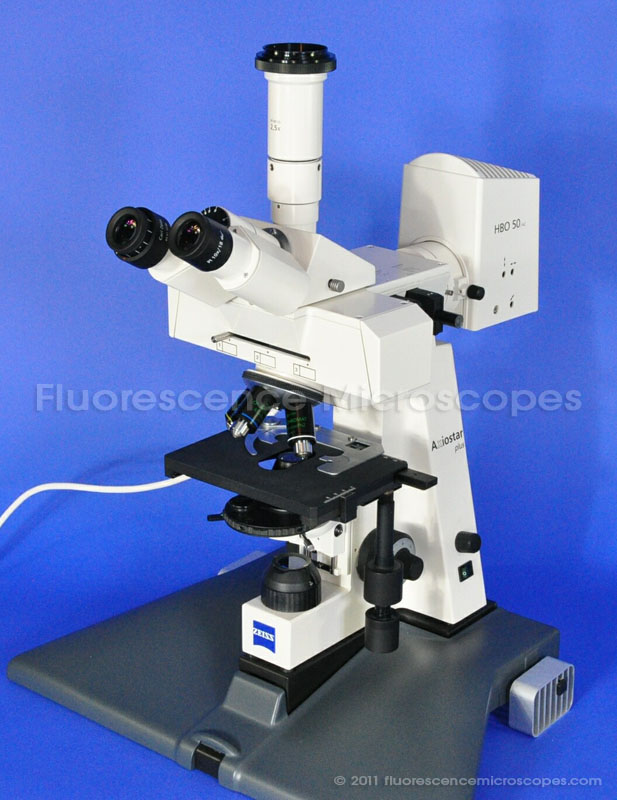 SOLD
Model: fl002
Shipping/Handling/Insurance: $ 200.00
For an additional fee, we can have this microscope certified as serviced by an experienced microscope technician, and provide the certification sticker.
Specifications
Zeiss Objectives
Full set of phase contrast microscopy objective lenses. Phase turret condenser. Fluorescence objectives.
Trinocular head.
Additional Information
The mercury light source power supply timer shows only 6 hours of usage. This fluorescent microscope is practically brand new.
Certified Microscope Servicing
For an additional fee, we can have an experienced microscope technician professionally service this instrument and provide the certification sticker. The technician previously worked as both a Zeiss and Olympus certified repair technician and has over 25 years experience with high-end name brand microscopy equipment. He currently does repair and certified servicing of microscopes in hospitals, universities, clinics, and industrial factories within a 200 mile radius of St. Louis, Missouri, USA.
On-Site Demonstration
For hospitals, medical clinics, universities, and industrial laboratories with a 200 mile radius of St. Louis, Missouri, we can arrange for an on-site demonstration of this microscopy equipment.
Payment Method
We accept purchase orders from government, educational, and industrial facilities. We also accept credit card payments. We accept bank wire transfers for outside of USA international customers. All microscopes are preset to 110V. Some microscopes are switchable to 220V if needed for Europe/Asia voltage.
Guarantee
We guarantee the optical quality and functionality is like-new. If in the unlikely event you are dissatisfied with the microscope, contact us within 10 days of receiving it for an RMA number. We'll refund you the purchase price of the microscope upon you returning it to us. The shipping cost is non-refundable.
Warranty
This Zeiss Fluorescence Microscope Axiostar Plus Epifluorescence Dealer Demo Used Microscope comes with a 90 day warranty on parts and a one year warranty on labor.
Optional LED Illumination
This microscope comes with a Mercury bulb illumination source for fluorescence microscopy. As an option, we can upgrade this fluorescent microscope to be fitted with a Mercury-free LED illumination system. The LED excitation wavelength can be matched to the fluorescent stains and dichroic filter cube spectrums. Our LED fluorescence illuminators can be chosen from 20 different excitation wavelength bands. They range from 365 to 770 nm to white light. The price for the optional LED illumination system is $1900 plus $45 for the adapter. Contact us for more details about the LED fluorescence microscopy option.
LED Illumination Advantages
LED illumination gives a variety of advantages over normal Mercury illumination, all while producing equal or better images. It has basically no disadvantages with the exception of a higher initial investment expense. With LED illumination, there are no health and safety hazards from the toxic Mercury. LED is also safer as the light source produces illumination only in the needed band of wavelengths. Mercury bulbs produce light over a wide range which includes harmful UV that can burn the retina in a human eye. Unless you select an LED source that is within the UV band, it will not produce this dangerous UV light radiation. LED lights give instant on and off with no warm up or cool down times. LED has intensity control. LED bulbs last as much as 100 times longer than Mercury bulbs, so may last 15 to 20 years. This eliminates the need for costly replacement bulbs and mercury disposal issues. LED bulbs give even illumination so there is no need for time consuming and tricky mercury bulb alignment to get a good image. LED bulbs are not easily breakable and don't run the risk of exploding like Mercury bulbs can do. LED is highly efficient, reducing the heat generation and saving money on electricity (as much as 6 times as efficient). LED is quiet and doesn't need the large noisy fan forced air cooled system that Mercury does. The LED system doesn't need shutters or ND (neutral density) filters. LED illumination is a superior lighting system replacing mercury-based systems like HBO and metal-halide.