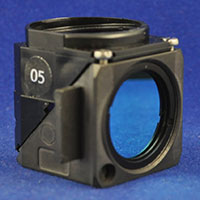 ITEM CODE: C195
Shipping Cost: To be determined
Description:
Zeiss Filter Set 05 for Fluorescence Microscope.
Includes cube.
Excitor BP 395-440.
Dichroic. FT 460
Emitter. LP 470 Long Pass
Shift Free
Tilted Emission Cube #424931.
Zeiss Part#488005
Zeiss pricelist (2008) unmounted filter set (w/o cube) price USD $618 (price for only the filters, not the cube). This ad includes the cube.
Compatibility:
This is the P&C module version that fits the newer models such as AxioVert 200, AxioPlan-2, AxioSkop-2 (not screw-in version), Axio Observer, Axio Imager, etc. There is an older module (sometimes found on early versions of AxioSkop-2) that requires screws to mount. These two types of modules are not interchangeable and this P&C module will not fit turrets made for the screw-in type.
Condition:
Used. Very slight signs of usage. We guarantee this will work properly.