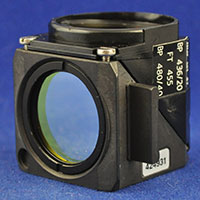 ITEM CODE: C194
Shipping Cost: To be determined
SOLD
Description:
Zeiss Filter Set 47 HE CFP for Fluorescence Microscope.
Includes cube.
Excitor BP 436/25.
Dichroic. BS FT 455
Emitter. BP 480/40 Band Pass
Shift Free
Tilted Emission Cube #424931.
Zeiss Part#489047.
Zeiss website unmounted filter set (w/o cube) price USD $1344 (price for only the filters, not the cube). This ad includes the cube.
Compatibility:
This is the P&C module version that fits the newer models such as AxioVert 200, AxioPlan-2, AxioSkop-2 (not screw-in version), Axio Observer, Axio Imager, etc. There is an older module (sometimes found on early versions of AxioSkop-2) that requires screws to mount. These two types of modules are not interchangeable and this P&C module will not fit turrets made for the screw-in type.
Condition:
We're calling this used but it looks New. We guarantee this will work properly.
Factory Website Link: https://www.micro-shop.zeiss.com/index.php?s=1413317143a4a02&l=en&p=us&f=s&q=489047&o=0&h=24&n=0&sd=489047-9901-000#489047-9901-000