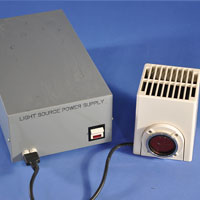 SOLD
ITEM CODE: A201
Shipping Cost: To be determined
Description:
Zeiss Halogen Lamp Housing Illuminator and Power Supply for Microscope.
Made for halogen lamp. This is not the HBO Mercury lamp version.
This is for the newer Zeiss. It has the larger flange for the Axio series. It will not work with the old gray colored Zeiss IM and that vintage. This is the lighter tan color housing.
Voltage: 120 VAC input. 12V output to Lamp housing. Rated 100W.
Bulb: Use a halogen 12V-100W bulb.
Housing part number 447217.
This lamp housing can also be plugged into the back port of the Axio series microscope frames or plugged into the external Zeiss power supplies. We got this with this power supply so are selling it together. But the included power supply does not need to be used if you have something else.
Condition: In good condition. Guaranteed to work well.