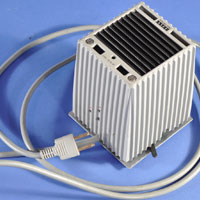 SOLD
ITEM CODE: A199
Shipping Cost: To be determined
Description:
Zeiss Halogen Lamp Housing Illuminator for Microscope.
Made for halogen lamp. This is not the HBO Mercury lamp version.
This is for the older Zeiss. It has the smaller flange. It won't work with the Axio series. It will work with Zeiss IM and that vintage. This is the color gray, not the lighter tan color. The color gray is what the older models had.
Condition:
In good condition. Guaranteed to work well.