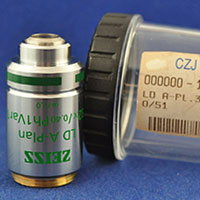 ITEM CODE: L391
Shipping Cost: Free Shipping
Description:
Zeiss LD A-Plan 32x / 0.40 Ph1Var1, Infinity / 1.0 Microscope Objective.
Part Number 1006-594.
RMS threads.
Phase contrast with Variable Relief.
Long Working Distance 3.2mm.
1mm petri dish thickness rated.
Price new from Zeiss (Year 2012 pricelist): $1551 USD.
Condition: New with factory canister vial.