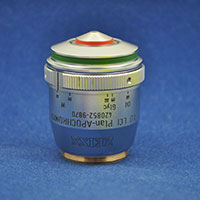 ITEM CODE: L349
Shipping Cost: To be determined
SOLD
Description:
Designed specifically for Live Cell Imaging techniques.
Working Distance.0.57mm at cover glass 0.17mm.
Cover glass thickness.0 – 0.17mm.
Numerical Aperature. 0.8.
Infinity Corrected.
Field of view: 25mm.
Multi Immersion: Silicone Oil, Oil Immersion, Glycerine, Water.
Attocorr.
(UV) VIS-IR.
Thread type: M27x0.75.
Zeiss Part Number 420852-9870-000
Zeiss Price USD $10,775.00
Link to factory PDF file: Zeiss-LD-LCI-Plan-Apochromat-25x-Imm-Corr-DIC-M27-Microscope-Objective.pdf
Condition: New.
Includes plastic canister (not shown).