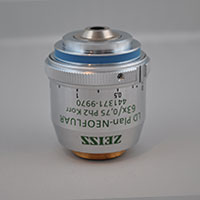 ITEM CODE: L307
Shipping Cost: To be determined
SOLD
Description:
Zeiss LD Plan-NEOFLUAR
63x
0.75 N.A. Numerical Aperture
Infinity Corrected
0-1.5mm Correction Collar
Long Working Distance
Zeiss Part Number 441371-9970
Phase Contrast Ring. Ph2.
Thread RMS 0.8". (not M27).
Very hard to find objective in this thread.
Zeiss Price was USD $4279 but can't get the 0.8" RMS thread now. Zeiss now only sells M27 in this series.
If you have the 0.8" thread on your microscope (ex. Axiovert 200 series), this is the best objective for it.
Korr Correction Collar. 0 – 1.5mm.
Condition: New.
Includes plastic canister (not shown).