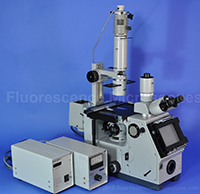 MODEL: Zeiss IM Style
ITEM CODE: 525
Shipping Cost: To be determined
Objectives:
2.5x: Plan F2.5/0.08, 160/-. Part#460110-9906.
10x – Phase Objective: F 10x/0.25, 160/-, Ph1. Part#460406.
20x – Phase Objective: F-LD 20x/0.25, 160/2, Ph1. Part#460606.
32x – Phase Objective: F-LD 32x/0.4, 160/1, Ph1. Part#460703. Spring Loaded.
Fluorescent Microscopy System:
100W HBO System.
HBO Lamp Housing, Rear Mounted.
Includes 100W Mercury Bulb installed in lamp housing.
Dichroic Filter Cubes:
Includes a tray with two filter cube sets.
Cube#1: FITC. Excitation Spectra: 450-490nm. Dichroic Mirror: FT 510nm. Emission Spectra: 515-565.
Cube#2: Exciting Spectra: Band Pass 546nm. Dichroic Mirror: FT 580nm. Emission Spectra: Long Pass LP 590.
Phase Contrast Microscopy System:
Condenser with brightfield position, phase annulus for Ph1, and phase annulus for Ph2.
Photography Capable:
Trinocular Viewing Head.
Ability to connect photographic and video equipment for taking digital still and digital video.
No camera equipment is included.
Note: Unit also has a 35mm film camera setup which is generally considered obsolete. This is the large square black area on the front of the equipment.
General Specifications:
Eyepieces (qty 2 each): KPL-W10x/18 High Eyepoint
Sextuple (6-place) Objective Nosepiece.
Low position XY stage controls on left hand side.
Made in West Germany.
Transmitted Illumination (brightfield – phase contrast):
12V-60W Incandescent Bulb.
Power Supply: 6-12V with 200W maximum capability.
120V, 60 Hz.
Fluorescent Illumination:
Zeiss 100W DC Mercury power supply.
Condition:
This is a used microscope and sold in as-is condition.
User Manuals and Instructions:
Zeiss Inverted Microscope IM Operating
Warning:
UV light and Mercury Bulbs are Dangerous! YOU MUST Read BEFORE purchasing! Click this link.
Safe With UV Light