SOLD
ITEM CODE: A224
Shipping Cost: To be determined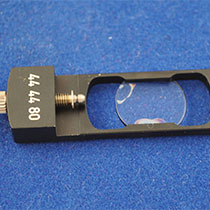 Description:
Zeiss DIC Prism Slider III for Plan Neofluar 100X /1.30 Oil Immersion microscope objective.
The prism has some signs on delamination on the edges. This should not affect the resulting images.  We have a money back guarantee on the product if you are not satisfied.
Fits the Zeiss Axio series.
This slider inserts into the nosepiece slot just above the corresponding objective lens.
Zeiss catalog number: 444480.
The corresponding objective this is used with is as follows: Plan Neofluar 100X /1.30 Oil.
The Zeiss price for this is around USD $600.
Condition:
Used, some delamination, but in workable condition. We guarantee this will work properly.