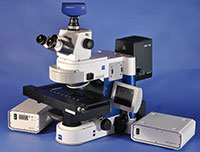 MODEL: Zeiss Axio Imager M1
ITEM CODE: 635
Shipping Cost: To be determined
SOLD
Summary:
Hard to find late model upright fluorescent microscope.
We can customize this microscope as per your individual needs.
We have a variety of objective lenses than we can install.
Let us know your filter requirements and we can customize the dichroic filter cubes. We are a Chroma dealer.
Product Overview and Main Components:
HBO 100 – 100 Watt Mercury Illumination System: Housing: HBO 100. Zeiss part number 098.0042.000, 01/01715
Mercury Lamp Power Supply: ebq 100 isolated.
HAL 100 – Transmitted Illumination Source. Housing: HAL 100 Zeiss part number 098.0040.000, 01/08467
Power Supply Model 231. Vero power supply. VP231-2 (note, this connects differently than the VP230).
Shown with motorized stage. We can remove this stage and install other stages as per your individual requirement.
Trinocular viewing head, with photography port. Zeiss Part number 425512.
Eyepiece Pair: W-Pl 10x/23. Pair. High eyepoint.
Condenser Part Number 424219.
TFT Touch-Screen for control of unit. Touch-screen.
100V/240V Autorange. 50/60 Hz.
You will need to add Zeiss Zen software and a computer.
Sold Separately: Zeiss MRc and MRm axiocameras.
Sold Separately: C-mount adapter, 60N-C 1″ 1.0x, Zeiss Part Number 426114
User Manual and Instructions:
Click this link: Zeiss Axio Imager Brochure.pdf
---
TERMS AND CONDITIONS:
Payment Method:
We generally accept purchase orders from government, educational, and industrial facilities. We also accept bank wire (telegraphic transfers) transfers. Contact us for details.
Shipping Costs:
Shipping costs vary. Please contact us and we will review your location and the cost to ship.
Money Back Guarantee:
We guarantee you will be satisfied with your purchase. If in the unlikely event you are not satisfied and want to return your item, please contact us within 10 days of receiving it. We will then arrange to get you an RMA number and details about how to return it. Shipping costs are non-refundable. We have no restocking fees. We will refund the full price of the equipment.
Beware of counterfeit fake parts:
Be sure of who you are buying from as a lot of "used dealers" are selling counterfeit parts, passing them off as originals.
Click this link.
All Original Parts – Not Counterfeit
Warning:
UV light and Mercury Bulbs are Dangerous! YOU MUST Read BEFORE purchasing!
Click this link.
Safety with UV Light