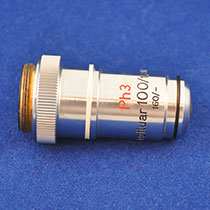 SOLD
ITEM CODE: L136
Shipping Cost: To be determined
Description:
Zeiss Neofluar 100x/1.30 160/- Ph3 Phase Contrast Microscope Objective
This has fluorite glass for the lens, so is perfect for use with fluorescence microscopy.
Spring loaded. Spring works great with excellent spring-back. Often these lose their spring force and can't spring back to normal position.
Part Number 4120030.
Made in Germany. Not the older West Germany model.
Includes plastic canister (not shown).
Condition: Used and in good condition. We guarantee this will work properly.