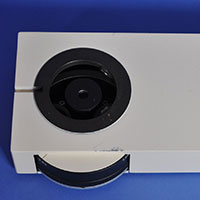 Description:
Magnification settings: 1.25x, 1.6x, 2.0x, 2.5x.
Zeiss part# 451904
Made for Zeiss AxioPlan.
Fits easily between head and top of frame. Easy to add to increase the magnification of your image.
Condition: Used. Glass optics are good without any detectable problems. Rotated well with good positive click-stop positions.
This is NOT compatible with the AxioPlan-2 or AxioPlan-2ie (imaging) models.