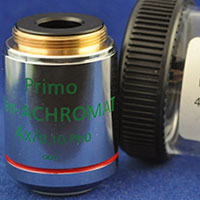 ITEM CODE: L393
Shipping Cost: Free Shipping
Description:
Objective Plan-Achromat 4x/0.10 Ph0, Infinity / – Microscope Objective.
WD=12.0mm.
Phase contrast.
For Primo series but will fit any with Infinity correction and RMS threads.
RMS threads.
Item Number: 415500-1619-000
Zeiss website price new $308 USD.
Condition: New with factory canister vial.