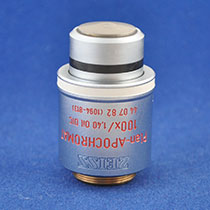 ITEM CODE: L178
Shipping Cost: To be determined
Description:
Zeiss Plan-ApoChromat 100x / 1.40 Oil DIC Infinity/0.17 Microscope Objective.
Spring loaded.
RMS M20 Thread.
Part Number 440782 (1094-813).
The image from Zeiss website shows a compatible version but not the exact, since it has M27 threads, and our item has M20 threads. Zeiss price is $5812.
Includes plastic canister (not shown).
Condition: Used. In excellent condition. We guarantee this will work properly.