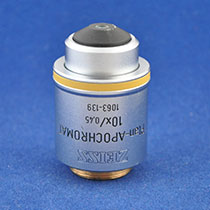 SOLD
ITEM CODE: L185
Shipping Cost: To be determined
Description:
Zeiss Plan-ApoChromat 10x / 0.45 Infinity/0.17 Microscope Objective.
RMS M20 Thread.
Part Number 1063-139.
Priced on Zeiss website at $2671.
Includes plastic canister (not shown).
Condition: Used. In good condition. We guarantee this will work properly.
Note: Zeiss made another similar objective, part 440630, but it is a cheaper one and with only a 0.32 numerical aperature. This has a much larger 0.45 N.A. so will give a lot higher resolution.