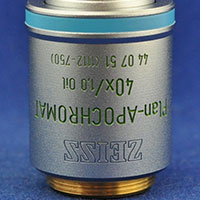 ITEM CODE: L409
Shipping Cost: Free Shipping
Description:
Zeiss Plan-Apochromat 40x / 1.0 Oil Immersion, Infinity / 0.17 Microscope Objective.
Phase Contrast. Ph3.
Item Number: 440751 (1112-750)
Working Distance 0.31mm
Price new from Zeiss (Year 2018 pricelist): USD $6267.
Condition: Excellent. Insignificant crack on plastic at the end (shows in photos). This is not important and has no bearing on functionality or optics.