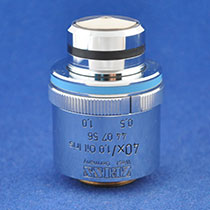 ITEM CODE: L183
Shipping Cost: To be determined
Description:
Zeiss Plan-ApoChromat 40x / 1.0 Oil Iris Infinity/0.17 Microscope Objective.
RMS M20 Thread.Spring loaded.
Iris Diaphragm. Rotates smoothly.
Part Number 440756.
There doesn't appear to be a similar unit on the Zeiss website, but comparable versions go from $6000-$8000.
Includes plastic canister (not shown).
Condition: We are calling this used, but it looks to be in perfect condition with no signs of usage. We guarantee this will work properly.