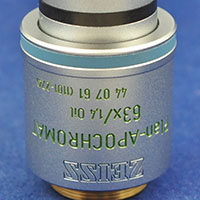 ITEM CODE: L380
Shipping Cost: To be determined
SOLD
Description:
Part# 440761 (1101-274).
High Numerical Aperture, perfect for fluorescence microscopy.
We tested this objective with a slide and a drop of oil and the image was excellent.
This has the RMS threads. Zeiss discontinued selling with this thread size for this particular objective.
Original price from Zeiss was USD $6475.