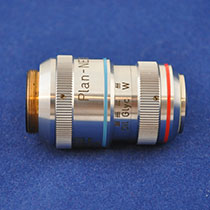 SOLD
ITEM CODE: L148
Shipping Cost: To be determined
Description:
Zeiss Plan Neofluar 40x /0.9 Imm 160/-. Oil Glyc W Multi Immersion Microscope Objective.
Correction Collar to compensate for various immersion techniques, including Water, Glycerin, and Oil.
Correction Collar rotation is smooth and easy. Often times these freeze up.
Spring loaded. Spring works great with excellent spring-back. Often these lose their spring force and can't spring back to normal position.
Part Number 461725.
Includes plastic canister (not shown).
Condition: Used but in excellent condition. We guarantee this will work properly.