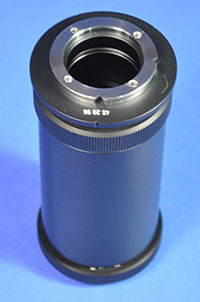 SOLD
ITEM CODE: A139
Shipping Cost: To be determined
Description:
Zeiss SLR Camera Adapter for Axio Series Microscope.
This came off of a Zeiss Axioskop.
Reduction Lens: 0.25x.
Marked Zeiss part number 45 60 29 on the lens holder and 47 601 89 on the T-Adapter.
Not sure what brand of camera the T-adapter fits. However, you can simply unscrew the t-adapter and replace it with the one that fits your camera. These were originally used for the old 35mm SLR film cameras, but they can now be adapted to the modern digital SLR cameras. Remove the lens from your digital SLR and use the corresponding t-adapter to fit your camera model.