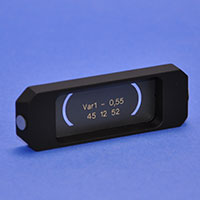 ITEM CODE: A253
Shipping Cost: To be determined
Contact us for pricing and availability.
Description:
Zeiss Variable Relief Contrast Slider Diaphragm
Varel 1 / 0.55
Fits the Zeiss Axiovert 25 and Axiovert 40 Microscope.
For condenser with 0.55 N.A.
Zeiss catalog number: 451252.
Condition: Item is New. We guarantee this will work properly.