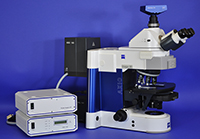 ITEM CODE: SKU-138
Model: Olympus IX71
Shipping Cost: Free USA Shipping.
Main features:
Modern Zeiss product line.
Latest style HBO and Halogen lamp housings.
Motorized Frame.
TFT Control Screen. Ability to access internal memory and change settings via the TFT touchscreen.
Computer Connectivity capability.
Specifications:
Eyepiece set: PL 10x/23.
Voltage requirement for Frame: Auto range.
Made in Germany.
Photography:
Trinocular photo port on top of the head.
Does not include C-mount adapter or camera.
Camera is only shown to demonstrate how one is connected but it will not be included.
Objectives Lenses:
7-Place Motorized objective nosepiece. M27 threads. With RMS adapters.
Let us know if you would like to replace or add to any of these objective lenses. We have a wide variety available.
Includes these objectives:
CP-Achromat 5x/0.12 ∞/- Objective.
CP-Achromat 10x/0.25 Infinity Objective.
CP-Achromat 40X/0.65 ∞/0.17 Objective.
CP-Achromat 100x / 1.25. Infinity /0.17 Oil Immersion Objective.
Fluorescence:
HBO 100 illuminator.
Autovolt external Mercury Arc power supply.
Adjustment slider for centering the Mercury arc.
Six-Place Motorized reflector cube turret.
Field and Aperture iris diaphragms.
Dichroic Filter Cubes:
6-Place Motorized Rotary Reflector Cube Turret.
(Qty 1 cube installed).
FITC.
Let us know what filter sets you may want. We have a wide variety and can supply most anything.
Transmitted Illumination:
100W Halogen lamp housing, new model black style.
Condenser: 0.9 N.A. With iris diaphragm. Flip top lens.
3200 K color temperature light button.
Koehler illumination diaphragm.
Button Controls:
Reflector turret rotation controlled by buttons on the left focusing knob.
Objective turret rotation controlled by buttons on the right focusing knob.
Load/Work buttons on both the left and right side of the frame. These buttons lower (then raise) the stage so objectives and slides can easily be changed.
There are two buttons on the left knob and two buttons on the right knob that are not programmed.
Reflected light shutter button on frame.
Transmitted light on/off button on frame
Comments:
We refurbish and repair fluorescence microscopes. We went through this microscope to get it in top shape for you.
We are including the necessary tools to assemble.
Our price is incredibly low.
If you would like to have a camera, please let us know and we can add it into the ad. We sell the same cameras as others, for much less.
Includes power cord. Not shown.
Upon purchase, we will email links to the user manuals / instructions.
User Manual and Instructions:
Copy link from this page:
Click this link: Zeiss Axio Imager Brochure.pdf
Click this link: Zeiss Axio Imager Operating Manual.pdf