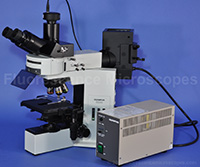 SOLD – BUT HAVE SIMILAR UNITS. PLEASE EMAIL US
MODEL: Olympus BX40
ITEM CODE: 913
Shipping Cost: To be determined
Photography Port Head:
U-TR30: Three-position trinocular viewing Head gives light to eyepieces, camera, or split to both.
Photography port on top allows camera equipment to be attached.
Special Features:
Reflected epi-fluorescence illumination system. BX-FLA reflected light attachment.
Transmitted light for brightfield.
Right hand stage with low position controls for slide movement.
Quintuple nosepiece for holding five objective lenses.
Objective Lenses: (Markings: Olympus Japan)
All are ICS infinity corrected optical system.
UPlanFl 4x/0.13 Infinity /-
UPlanFl 10x/0.30 Infinity /-
UPlanFl 20x/0.50 Infinity /0.17
UPlanFl 40x/0.75 Infinity /0.17
UPlanFl 100x/1.30 Oil, Infinity /0.17.
Magnifying powers in eyepieces: 40x, 100x, 200x, 400x, 1000x.
Dichroic Filters:
Quad turret for holding up to four filter cubes.
Instead of providing used bleached out filters, we opted for giving completely new dichroic filters including the excitator, dichroic mirror, and barrier filter.
The following brand new filter cube sets are included: DAPI, FITC, TRITC.
If you need custom filters to match your specific fluorophores, then let us know and we will make a suggested match based on the wavelength charts.
Click this link for more information on what is included.
Refurbished with brand new Omega filters
Basic Features:
UV light protector shield is included. This should be used to protect the user from stray harmful UV light.
Frame is marked with Model: Olympus BX40F. Made in Japan.
UL Underwriters Laboratories Listed.
Rear transmitted light source 6V-30W from model U-LS30-4 lamp housing.
Frame voltage requirements are selectable: 220-240 / 100-120 Volt. 0.8/0.4A. Frequency 50/60 Hz.
Mercury Arc back lamp housing: U-ULH with bulb mount part number U-ULS100HG.
Replacement burner (mercury bulb) required: USH-102D. Includes mercury bulb.
Power supply for 100W HBO mercury system: BH2-RFL-T3. Unit is 100-120V, 50/60 Hz electrical rated.
XY mechanical stage part number U-SVRS-3.
Koehler illumination field iris diaphragm in base of frame for transmitted light.
Light condenser part number U-AC with iris diaphragm and 1.25 numerical aperature.
High eyepoint eyepieces allow you to view the image without needing your eyes right upon the glass. This is helpful if you wear eyeglasses.
Eyepiece Pair WH10X/22. Nice field of view at 22mm.
Diopter adjustment on one eyetube of viewing head.
Transmitted brightfield light: Preset light intensity memory button. Variable intensity light switch.
Power Cord is supplied but not shown in the images.
Equipment Condition:
This is a dealer demo microscope that is in perfect working order.
User Manual and Instructions:
Click this link: Olympus BX40 Instruction Manual
Click this link: Olympus BX-FLA Reflected Light Fluorescence Attachment Manual BX40 BX50
Optional Accessories:
Need a high sensitivity camera for good fluorescence imaging? Click here for details. No camera is included, however, we can provide.
Optional high-end camera for fluorescence microscopy
---
TERMS AND CONDITIONS:
Payment Method:
We generally accept purchase orders from government, educational, and industrial facilities. For some orders, we accept credit cards. We also accept bank wire (telegraphic transfers) transfers. Contact us for details.
Shipping Costs:
Shipping costs vary. Please contact us and we will review your location and the cost to ship.
Money Back Guarantee:
We guarantee you will be satisfied with your purchase. If in the unlikely event you are not satisfied and want to return your item, please contact us within 10 days of receiving it. We will then arrange to get you an RMA number and details about how to return it. Shipping costs are non-refundable. We have no restocking fees. We will refund the full price of the equipment.
Warranty:
We warranty all our reconditioned products to be in good working order. We will repair or replace equipment at no charge, during our 90 day warranty period. We have a one year warranty period for labor.