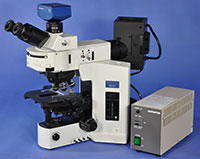 SOLD – BUT HAVE SIMILAR UNITS. PLEASE EMAIL US
MODEL: OLYMPUS BX51
ITEM CODE: 914
Shipping Cost: To be determined
Photography and Video Port:
Trinocular head with photo and video port. Olympus part number U-TR30-2.
Lever slider in head for these three settings: 100 percent light to eyepieces, 100 percent light to camera, or split between them.
Includes a 0.5x focusable C-Mount camera adapter. This adapter is not by Olympus and is the only non-Olympus part on this unit.
The camera is not included. The photo shows a Zeiss camera but it is only for demonstration purposes and not included.
Special Features:
Built-in Vertical Illuminator for Reflected Fluorescent light. Mercury – 100 Watt.
Bottom Transmitted Illuminator. Halogen. This is the higher power 100W system. The 30W system is what is used on the BX41 frame. This frame is larger than the BX41 and is the professional research model.
Sextuple Nosepiece for up to six objectives. Part number U-D6RE
Easily configurable. Let us know anything you want changed and we can do it for you. We can change objectives, add a variety of new and used dichroic filters, change stages, and even the illumination systems.
Objective Lenses:
UPlanFl 10x/0.30 Infinity /-
UPlanFl 20x/0.50 Infinity /0.17
UPlanFl N 40x/0.75 Infinity /0.17. FN26.5.
UPlanFl 100x/1.30 Oil Immersion, Infinity /0.17
Available Magnifications: 100x, 200x, 400x, 1000x.
Fluorescence Filters and Reflector Turret:
Turret Style Filter Cube Holder. Has space for up to Six dichroic filter cubes.
We are not providing any filter cubes or filters with this unit.
Instead, please let us know which you need, and we will customize it for you.
They are sold separately. We are a dealer for Chroma Filters. We can buy them new or you can select from some of our slightly used filter sets.
General Specifications:
Frame is Made in Japan.
Mechanical Stage Model: U-SVLB-4.
Low Position XY slide moment. Left Hand Configuration.
Light Condenser (below stage) Model: U-AC2. Has iris diaphragm and N.A. 1.25.
Nosepiece slider opening. Ability to add in sliders above the nosepiece such as for DIC.
WH 10X/22. Widefield. Has the high eyepoint design for use with or without eyeglasses. FOV (Field of view) 22mm.
100 Watt High Pressure Mercury Arc Illuminator. Lamp Housing Model U-ULS100HG (and U-ULH). 19V-100W.
Note: The photos don't show the three centering screws for the Mercury burner, but they will be included.
When buying a replacement burner (lamp), select model USH-102D. A slightly used mercury bulb will be included.
Model BH2-RFL-T3, 100-120V. Olympus 100 Watt Mercury Power Supply. This is the external box with line to Hg lamp housing. This external power supply is only 100-120VAC. It is not autovolt.
Halogen illuminator for transmitted light. Model U-LH100-3. 12 Volt – 100 Watt. This is the back, bottom lamp housing.
Power Cord. This is included with the unit, but not shown in the images.
Frame has WorldWide Voltage: 100V-120V / 220V-240V. 50/60 Hz.
Optional Accessories:
Need a high sensitivity camera for good fluorescence imaging? Click here for details. No camera is included, however, we can provide.
Optional high-end camera for fluorescence microscopy
Not Included: U-25ND25 Neutral Density Filter Slider (Vertical Illumination Light Path).
We have a variety of other objective lenses that can be added. For instance, we can add the Plan Apo for highest color correction. Please let us know your requirements.
Condition:
This is a reconditioned microscope and is in excellent working condition.
User Manual and Instructions:
Click this link: Olympus BX51 and BX52 Microscope Manual
Click this link: Olympus RFS Reflected Fluorescence System Microscope Manual BX51
---
TERMS AND CONDITIONS:
Payment Method:We generally accept purchase orders from government, educational, and industrial facilities. For some orders, we accept credit cards. We also accept bank wire (telegraphic transfers) transfers. Contact us for details.
Shipping Costs:
Shipping costs vary. Please contact us and we will review your location and the cost to ship.
Money Back Guarantee:
We guarantee you will be satisfied with your purchase. If in the unlikely event you are not satisfied and want to return your item, please contact us within 10 days of receiving it. We will then arrange to get you an RMA number and details about how to return it. Shipping costs are non-refundable. We have no restocking fees. We will refund the full price of the equipment.
Warranty:
We warranty all our reconditioned products to be in good working order. We will repair or replace equipment at no charge, during our 90 day warranty period. We have a one year warranty period for labor.
Beware of counterfeit fake parts:
Be sure of who you are buying from as a lot of "used dealers" are selling counterfeit parts, passing them off as originals. Click this link.
All Original Parts – Not Counterfeit
Warning:
UV light and Mercury Bulbs are Dangerous! YOU MUST Read BEFORE purchasing! Click this link.
Safety with UV Light