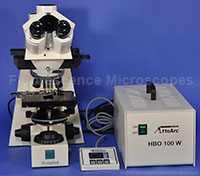 MODEL: Zeiss AxioPhot
ITEM CODE: 603
Shipping Cost: To be determined

Overview:
High Quality German Design.
Trinocular Photography Head.
HBO 100W/2 High Pressure Mercury Lamp.
Variable fluorescent light intensity with the AttoArc.
Brand new Omega filter cube sets.
Description:
This is an exceptionally good quality high-end microscope. It is used, and years old, but was made to last forever by the world class German engineering teams at Zeiss. Even with its age, it's amazing to feel the movements of all the knobs, nosepiece rotation, focusing, and adjustments. This type of precision manufacturing leaves even the best Chinese microscopes of today far behind in terms of quality. To understand this, you need to have one of these side by side with a modern Chinese "production line" unit. A comparable analogy is like the refrigerators and televisions of the past. These were once made by proud American companies. They typically lasted ages, easily in the decades. Try getting that out of new, lowest cost, cheaply made equipment of today…
One part that does wear out is the fluorescence dichroic filter system. These filters bleach out and are burned over time by the high power Mercury illumination system. We have fitted this unit with completely brand new dichroic filters by Omega, one of the world's finest optical filter manufacturers, and made in USA. The technology used to make dichroic mirrors has been improved, so this unit today will give better quality images than the day it was made. These particular Zeiss Axiophot models are still used all over the world in universities for research. They often are found with the large head that was used for the 35mm film camera systems. That part is now obsolete due to the digital age. This unit has the normal trinocular head so can be fitted with a modern USB digital camera system, with optional attachments.
Specifications:
Trinocular head capable of photography.
Eyepiece Pair: Pl 10x/25mm. The super wide field 25mm field of view is exceptional. Most are 18mm with some being 22mm.
Right-Hand mechanical stage with XY slider for glass specimen slide.
Sextuple (6-position) nosepiece for holding the objectives.
Power cord included but now shown in photos.
Upon purchase, a digital copy of the user manual will be provided.
Objectives:
Infinity Corrected Optical Light System.
5x: CP-Achromat 5x/0.12, Infinity/-. Zeiss Part #44 09 20.
10x: Fluar 10x/0.50, Infinity/0.17. Zeiss Part #44 01 35.
40x: CP-Achromat 40x/0.65, Infinity/0.17. Zeiss Part #44 09 50.
100x: Achrostigmat 100x/1.25 Oil, Infinity/0.17. Ph3. Zeiss Part #44 02 81. (This is the phase contrast objective).
Phase Contrast:
Phase slider. Zeiss model#453670.
Bertrand lens on a slider to view the back aperature plane (to show the phase rings) in the phase contrast objective. This is also called the observation of the objective pupil. This allows proper centering of the objective with the condenser diaphragm.
Light Condenser:
Turret style rotating condenser, Zeiss model 445366.
Numerical Aperature 0.9.
Includes flip-out top lens system. This enables the use of lower power scanning objectives such as 2.5x magnification.
Stops for: Ph1, Ph2, Ph3, brightfield (with iris), and one extra (empty) spot.
The phase annulus ring for the Ph1 is missing. This could be easily installed.
The empty spot originally came with a darkfield diaphragm that is now missing.
Transmitted Illumination:
Lamp is 12V-100W Halogen.
Lamp Housing is located on rear lower part of the frame. Housing part#447217.
Variable intensity illumination control.
The frame has four built-in light controlling filters on a push-button style engagement system.
The filters are: dark-gray ring (neutral density 0.06), light-gray ring (ND 0.25), green ring (green interference filter), blue ring (conversion filter 3200/5500K).
Koehler illumination field iris diaphragm.
Has no need for an external 12V power supply for the transmitted light source. Many Zeiss, Leica, Nikon and other models require a separate power supply. This unit's frame is very large and completely houses the transformers. In fact, it has outputs for two different 12V-100W lights. The one is used for the bottom transmitted illumination source. The other is not used. If the epi-fluorescence system were not used, another halogen lamp system could be installed for providing epi-illumination for metallurgical use.
Fluorescence Filter System:
3Fl Cube slider tray. Model 446421. Holds three dichroic filter cubes.
We have refurbished this equipment and included the following brand new dichroic filter cube sets.
Click this link for more information.