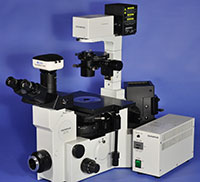 SOLD – BUT HAVE SIMILAR UNITS. PLEASE EMAIL US
MODEL: Olympus IX70
ITEM CODE: 916
Shipping Cost: To be determined
Main Features:
Inverted style for viewing petri dishes and cell cultures.
Higher power 100W HBO Fluorescent Light.
Higher power 100W Halogen Transmitted light. Not the common 30W as used on the IX50 systems.
Sextuple Nosepiece for holding up to six objective lenses.
Magnification Changer on Side of frame. Can quickly magnify an additional 1.5x by engaging the lens.
Photography Camera Ports:
Part Number: U-TR30H. Includes part number IX-ATU intermediate piece below head.
Trinocular viewing head with camera port.
Three positions: 100 percent light to eyepieces, 100 percent light to camera, or split image.
Camera adapter for the top trinocular port (on the head) is included. This is a 0.5x reduction lens adapter and has a focusable feature to make it more par focal with the binoculars. This part is not by Olympus. This adapter can be used to attach a variety of c-mount version microscope cameras.
Camera is not included. Photos show a Q Imaging (MicroPublisher 5.0 RTV) Color camera. Model 01-MP5.0-RTV-CLR-10. 5 Megapixel and 10 bit. With CE certification. Made in Canada. This is not your typical Made in China junk. Q Imaging in Canada makes these cameras for Olympus and they carry the prestigious Olympus name on them. They also sell the exact same camera without the Olympus name, which is what this one is. It is great for picking up the low lux fluorescing images.
DSLR camera port on front of frame.
Includes the SLR camera adapter piece plus a T-Adapter for connection to a DSLR (Digital SLR camera). I'm not sure if this is a Canon or other T-adapter, but any standard T-adapter can be screwed onto the main adapter. Other model T-adapters are easily for found and cost less than USD 10.
A common digital SLR camera to attach is the Canon Rebel DSLR. The lens is removed from the camera and only the body is needed.
Side video camera port. This is capable of attaching a c-mount and a camera. No camera is shown on this port in the images. It is shown capped off, but is fully functional.
Objective Lenses:
UPlanFl 4x/0.13 Infinity /-. PhL (Phase contrast).
UPlanFl 10x/0.30 Infinity /-. Ph1 (Phase contrast).
LCPlanFl 20x/0.40 Infinity / CAP-P1.1 +/- 0.5 (for plastic petri dishes). Ph1 (Phase contrast).
LCPlanFl 40x/0.60 Infinity / CAP-P0.5 +/- 0.5 (for plastic petri dishes). Correction collar -0.5 to +0.5. This is not phase.
Viewing Magnifications with this lens set: 40x, 100x, 200x, 400x. With 1.5x magnification lens pulled in: 60x, 150x, 300x, 600x.
Fluorescence Filter Cubes:
Rotary Filter Holder (turret style). Holds up to Four cubes. Part Number IX-RFAC.
Includes a new set of dichroic filters for fluorescent light: DAPI, FITC, TRITC.
Click this link for more information.
Refurbished with brand new Omega filters
Mercury Arc Illuminator System:
100W HBO Lamp Housing.
Part Number: U-ULH / U-ULS100HG
100W HBO power supply for high pressure mercury burner. Part number BH2-RFL-T3.
This power box is 110V. You can also acquire these in 220V or simply use a transformer if you have a 220V power source.
This unit comes with a Mercury bulb. Replacement bulbs are USHIO USH-102D.
Transmitted Light General Specifications:
100W Halogen Lamp Housing.
Part Number 12V100WHAL-L.
Includes 12V-100W Halogen Bulb.
Upper Light Carrier. Part Number IX-ILL 100LH.
Transmitted Light Filters:
These four filters are mounted in holders on the top of the upper light carrier.
LBD-IF – Light Balancing Daylight
ND12 Neutral Density
Frosted – for uncolored brightfield
Colored filter. Something like a light greenish color.
Transmitted Light Condenser:
Ultra Long Working Distance Condenser Model IX-ULWCD.
N.A. 0.30.
Setting for BF (Brightfield)
Plus three phase settings.
Phase Contrast Turret Inserts:
PHLU (PhL for 4x phase objective).
IX-PH1U (Ph1 / PhC for 10x and 20x objectives).
PH2U (Ph2 for 40x and 60x phase objectives).
Includes two centering screws (not shown) for centering of the phase annuli with the phase rings in the back aperature plane of the phase objectives.
Includes (not shown) a phase centering telescope. Part Number U-CT30. This is used in one eyepiece to view the phase annuli and phase ring in the objectives so they can be centered.
General Features:
WH 10X/22 with high eyepoint (capable of usage with eyeglasses. Wide field of view, 22mm.
Stage Part Number IX-SFR.
XY mechanical stage with low position right hand stage movement controls.
Includes a service screwdriver by Olympus. This is the 3mm hex that fits most of the screws for rapid assembly and disassembly as well as removal of the reflector turret to access the dichroic cubes. These screwdrivers are often missing and very hard to find.
Comes with power cords (not shown in photos).
Frame Markings:
Frame model: Olympus IX70-S8F2,
Made in Japan.
Power Requirement: 100-120V/220-240V AutoVolt. Can take either voltage.
CE and UL certification.
Condition:
This is a reconditioned microscope and is in excellent working condition.
Options:
Optional secondary rear condenser holder. This is for installing a second condenser.
This is useful if a second condenser such as a higher N.A (for high power objectives, with higher N.A) is needed. It can also be used for a Hoffman Contrast condenser.
User Manual and Instructions:
click this link: Olympus IX50 IX70 Inverted Microscope Manual
Optional Accessories:
---
TERMS AND CONDITIONS:
Payment Method:We generally accept purchase orders from government, educational, and industrial facilities. For some orders, we accept credit cards. We also accept bank wire (telegraphic transfers) transfers. Contact us for details.
Shipping Costs:
Shipping costs vary. Please contact us and we will review your location and the cost to ship.
Money Back Guarantee:
We guarantee you will be satisfied with your purchase. If in the unlikely event you are not satisfied and want to return your item, please contact us within 10 days of receiving it. We will then arrange to get you an RMA number and details about how to return it. Shipping costs are non-refundable. We have no restocking fees. We will refund the full price of the equipment.
Warranty:
We warranty all our reconditioned products to be in good working order. We will repair or replace equipment at no charge, during our 90 day warranty period. We have a one year warranty period for labor.
Beware of counterfeit fake parts:
Be sure of who you are buying from as a lot of "used dealers" are selling counterfeit parts, passing them off as originals. Click this link.
All Original Parts – Not Counterfeit
Warning:
UV light and Mercury Bulbs are Dangerous! YOU MUST Read BEFORE purchasing!
Click this link.