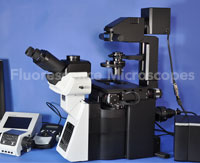 SOLD
MODEL: Olympus IX83
ITEM CODE: IX83
Summary:
Excellent rare opportunity for a current model system.
Full motorization.
Huge savings compared to buying new direct from Olympus America Corporation.
There are no other used IX83 units out there for sale, anywhere, as of the time of writing these specs. Don't miss this chance to save. Once it's sold, you will need to buy it brand new for a much higher price.
The new IX83 design has been significantly improved over past models and gives a better fluorescing image.
Main Components:
IX83-P1ZF Single Deck Frame.
IX3-ILL Illumination Column.
IX3-RFACA Motorized and Coded Fluorescent Mirror Turret for Reflected Fluorescence Imaging.
U-LH100-3 Upper Halogen Lamp, 12V-100W Halogen.
IX2-LWUCD Universal Long Working Distance Condenser (manually controlled).
Phase Annuli in condenser: PhL, Ph1. (Needs Ph2 for 40x).
Motorized Revolving Nosepiece, 6-Place.
Side Photography Port on microscope frame. Adapters for camera provided separately.
Observation Tube:
U-TTR-2 Trinocular Head.
Photography port on the head.
WHN10X-H/22 Eyepiece.
WHN10X/22 Eyepiece.
U-CT30-2 (Phase contrast telescope).
Objective Lenses:
LUCPlanFL N 40X/0.60, Ph2, 0-2mm Correction Collar. Phase.
LUCPlanFL N 20X/0.45, Ph1, 0-2mm Correction Collar. Phase.
UPlanFL N 10X/0.30, Ph1. Phase.
UPlanFL N 10X/0.30 (not phase).
UPlanFL N 4X/0.13, PhL. Phase.
UPlanFL N 20X/0.50, 0.17 (not phase).
Note: We can provide different lenses as per user's application requirements.
Motorized Stage:
Prior Model H117PIX3/A Motorized Stage.
Prior Proscan III model type H31XYZE-US Power Supply Box.
Prior Joystick Controller PS3J100.
Fluorescence Illuminator.
Prior Lumen 200. By Prior Scientific. (click here)
200W Metal Halide.
Up to 20 times longer bulb life than traditional HBO mercury vapor lamps, and similar spectral output.
None of the typical time consuming alignment of HBO with this simple fiber optic cable system.
Fluorescence Filter Cubes:
U-3N41002a; R/DiL; C153292.
U-3N41001; FITC; C151716.
U-3N31000v2; DAPI; C152604.
We can provide any other filter sets as needed. We are dealers for Chroma. Chroma is who Olympus buys their filters from.
Controller Components:
I3-TPC Touch Panel Controller.
U-MCZ Controller.
CBH Control Box.
Computer:
Dell Full Size Computer Model DCTA.
Windows 7 Pro Operating System.
Dell Monitor. LCD.
Software:
Cell Sens Ver. 1.5.
Cell Sens Dimension 1.7 (License – Full).
Multi Channel 5D for Cell Sens Dimension 1.7 (License – Full).
Hardware Dongle/lock. Safe Net Sentinel, Osteomeasure software key.
Misc Notes:
Includes LBD-1F. Equivalent daylight balanced filter for halogen illumination.
Lots of original factory-provided printed manuals and instructions.
Unit comes with all needed power cords, but they are not shown in the images.
Condition: Looks new.
History:
This instrument came from the recently shuttered Olympus Corporation's U.S. Biotechnology Division, Olympus Biotech. All commercial operations ended there this past May 30, 2014. This fluorescent microscope was barely used. It was not discarded due to something being defective like often times happens with used laboratory equipment.
Read about the facility's closure here.
Upgrade to Confocal:
Able to add on the Olympus FV1200 FluoView Laser Scanning Confocal Microscope Attachment.
A laser scanning confocal microscope needs a fully motorized microscope frame, such as this IX83.
Options:
Optional Olympus DP72 Camera. With U-TV1XC adapter.
Optional U-SPT Mount with PE 2.5X, 125 eyepiece.
Optional SWH10X-H/26.5 (qty 2, Super Wide Field Eyepieces)(Field width is 26.5mm instead of 22mm).
User Manual and Instructions:
Click this link: Olympus IX3 Microscope Series General Brochure
Click this link: Olympus IX3 Microscope Series – Overview Brochure
Click this link: Olympus IX3 Microscope Series Flyer – Design for Precision
Click this link: Olympus IX3 Microscope Series Flyer – Endless Possibilities
Click this link: Olympus IX83 Inverted Microscope Instruction Manual
Click this link: Olympus IX83 IX73 IX53 Microscope Brochure
---
TERMS AND CONDITIONS:
Payment Method:
We generally accept purchase orders from government, educational, and industrial facilities. We also accept bank wire (telegraphic transfers) transfers. Contact us for details.
Shipping Costs:
Shipping costs vary. Please contact us and we will review your location and the cost to ship.
Money Back Guarantee:
We guarantee you will be satisfied with your purchase. If in the unlikely event you are not satisfied and want to return your item, please contact us within 10 days of receiving it. We will then arrange to get you an RMA number and details about how to return it. Shipping costs are non-refundable. We have no restocking fees. We will refund the full price of the equipment.
Beware of counterfeit fake parts:
Be sure of who you are buying from as a lot of "used dealers" are selling counterfeit parts, passing them off as originals.
Click this link.
All Original Parts – Not Counterfeit
Warning:
UV light and Mercury Bulbs are Dangerous! YOU MUST Read BEFORE purchasing!
Click this link.
Safety with UV Light